DISPLAY CASES
After alot of requests from customers, we now have available High Quality Display Cases. "Our cases protect your hard work and showcase your models with maximum visibility." We work with the modelers to provide them with the best fit case for their project. Our custom cases fit around your model perfectly. Cases are made with real wood bases and glass covers with brass corners.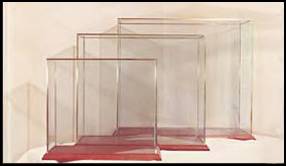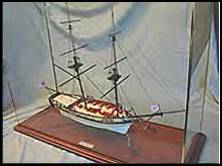 All cases come with a choice of oak or mahogany wooden base. Each base is finished with a hand rubbed stain and protected with several coats of polyurethane. The glass top is made of 1/8" double strength glass with solid brass corners.
All display cases are custom made to order. Our unique shipping crates and packing techniques allow us to ship our cases complete and fully assembled.
Pricing
To receive a quote for your display case please give us your finish size you would like your case. Length, height and width. As a rule of thumb please add 4 inches to the total length and width of your item and 1 1/2 inch to the height. Example:
Your Model = 30L x 20H x 10W
Display Case= 34L x 21 1/2H x 14W
This will give you 2 inches all the way around and 1 1 /2" on top for viewing the item you are displaying. Of course you can add on more if you like. Please call us if you have a special request for your case.
To Get more information or receive a quote please contact us with your requirements.
Tel:  (585) 494-0027
Email:  lhdockyard@aol.com
Fax:  (585) 494-1369