Loyalhanna Dockyard now offers both analog (51,52, 53, 54) and digital ('*) sound devices in order to provide accurate sounds and good dollar value. The analog systems are supplied with scale, appropriate sized speakers. All of the acoustically recorded digital systems are supplied with a 2" speaker which can be replaced by the modeler with a 1" speaker for on board HO & R/C use. On board sounds COB" are the sounds that should be heard from the model in motion.
If you have a sound or recording, (including music) that you would like in a sound effect for your model, we can put your sound into a sound device for you. Contact us for additional information or to place an order.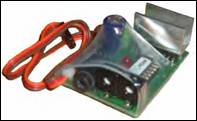 Realistic Sounds are produced on compact, easy to install circuit boards. Some of the devices are analog design and produce the accurate sound synthetically. More complex sounds are acoustically recorded and then digitally reproduced on custom "burned" chips. All digital devices are identical physically and designated with **. All systems are completely assembled. Batteries and connectors where required are not included.
| | | |
| --- | --- | --- |
| PART # | DESCRIPTION | PRICE |
| RAM - 31 | 3-WAY SIMPLE SIREN This compact but loud system offers a choice of 3 distinct siren sounds for cars, boats & planes. The system comes with a 2" speaker. 3 oz. Requires 9 V Battery. | |
| RAM - 38 | GAS/DIESEL SOUND W/HORN-4" SPEAKER You choose either gas or diesel sound w/adjustable horn for your electric car, truck or boat. Idle rate & top speed are also adjustable. Simple 4 wire hook-up. Completely assembled, includes 4" speaker. Compact state-of-the-art design is synchronized to motor speed. 6-14.4 V input power. | |
| RAM – 40 | GAS/DIESEL ENGINE SOUND W/HORN-2" SPEAKER Uses the same sophisticated sound device as the RAM-38 but with a 2" Speaker to allow installation in smaller boats. | |
| RAM – 48 | STEAM ENGINE SOUND The 1 Ό" x 3 Ό" Module produces the realistic chuff and hiss sound of a steam engine. The sensor board synchronizes the speed to the turning prop shaft in your model. Completely assembled with a 2" speaker. Operates on 6 to 14.4 V. | |
| RAM - 61 | WHOOPER Device produces the classic whooping attack alarm common on destroyers and other fast surface ships. The 1" x 2 ½" circuit board comes with a 2" speaker and is powered by 9 to 18 Volts. It can be controlled by a mechanical switch and servo, or electronic switch. It is provided in momentary mode but can be simply changed to emit a recorded sound cycle. Complete instructions give full details on all options. | |
| RAM - 63 | FOG HORN This device is now a digitally reproduced recording to give the classic tone familiar to many modelers. | |
| RAM – 67 | SHIP ALARM BUZZER This is the Klaxon sound used for general quarters on military ships. | |
| RAM – 89 | CATTLE SOUNDS This device provides the mooing of cattle in a pen or cattle car. | |
| RAM – 68 | SUB SONAR PING This clear ping is the tracking sound used to identify the location of underwater vessels. | |
| RAM - 80 | OLD TIME STEAM WHISTLE This device provides a variety of the unique steam whistle sounds of early steam engines typical of those used for logging and light duty. | |
| RAM – 77 | STEAM CALLIOPE This device provides a short, upbeat turn typical of those heard on circus midways. | |
| RAM – 69 | SUB DIVE ALARM To announce a dive to the crew a very distinctive alarm was given. | |
| RAM – 70 | AIR HORNS The sound of a dual trumpet air horn used on trucks, pleasure boats and small commercial vessels is very distinctive. | |
| RAM – 71 | BIG SHIP WHISTLE An ocean liner or large cargo ship has a very deep and distinctive whistle sound. | |
| RAM – 78 | RIVERBOAT STEAM WHISTLE The blast of the riverboat whistle was distinctive from other larger and smaller steam boats. | |
| RAM – 79 | JET ENGINE This device gives the distinctive whine of a jet turbine engine. | |
| RAM – 81 | 16" DECK GUN The roar and echo of a large gun is provided by this device. | |
| RAM – 82 | TUG BOAT WHISTLE Modern diesel tug boats have a very specific air horn sound. | |
| RAM - 46 | MACHINE GUN This New Device is now a digital reproduction of an acoustical recording. It has special instructions for multiple speakers and other hints commonly used by Show Teams. | |
| RAM - 39 | VW CAR ENGINE SOUND AND HORN Very compact. Completely assembled with 2" speaker and horn switch, Synchronized to car motor speed. Operates 6 to 14.4 volts. | |
| P-15 | DIESEL 4/8 16-CYLINDER ENGINE SOUND-6V – 12V | |
| P-56 | STEAM ENGINE SOUND/SINGLE OR COMPOUND ENGINE | |
| P-64 | MICRO-STEAM ENGINE SOUND (6.0 VOLT) | |
| P-57 | TWIN AIR HORN SOUND | |
| P-13 | FOG HORN | |
| P-14 | DESTROYER SOUND | |
| P-21 | EMERGENCY/POLICE SIREN SOUND | |
| P-29 | STEAM WHISTLE/HORN | |
| P-55 | ASDIC (SONAR SOUND) | |
| HS-1 | MORSE CODE SIGNAL SOUND GENERATOR | |
| PW-1 | DIESEL ENGINE SOUND 2/3 CYLINDER | |
| SPB-1C | ENGINE SOUND WITH AMP & SPEAKER | |
| SPB-1G | ENGINE SOUND UNIT ONLY | |
| P-63 | MICRO DIESEL ENGINE SOUND | |
| P-65 | TWO TONE HORN | |