BOW THRUSTERS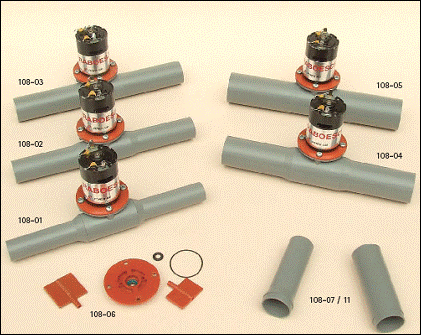 Bow Thrusters 108-01 to 108-05
These very powerful bow thrusters are supplied fully mounted with a JP power 400 7.2-Volt electrical motor. The propulsion is provided by a flat propeller (pedal) which pressurizes the water through jet nozzles whereby the entire assembly functions as a pump. This design is very robust and very stable and requires very little maintenance. The pump housing and the extension tubes are made of ABS (acrylonitrile butadiene styrene). The motor is sealed with a G-ring and an O-ring
which prevents the entry of water whereby the bow thruster can be installed vertically as well as horizontally. The motor with the pump housing cover can be removed easily.
The cover has an O-ring that ensures water-tight sealing of the entire assembly.  See technical drawing and details below.
Spare parts:
108-06: The pump housing cover, including pedals.
Loose Jet Nozzles:
108-07 SPARE NOZZLES (108-01)
108-08 SPARE NOZZLES (108-02)
108-09 SPARE NOZZLES (108-03)
108-10 SPARE NOZZLES (108-04)
108-11 SPARE NOZZLES (108-05)
108-12: JP power 400 electrical motor. RPM 17.000 – voltage without load: 0.5 Amps – Blocking voltage: 20 Amps.  Highest performance: 78% - Motor shaft: 2.3 x 12 mm